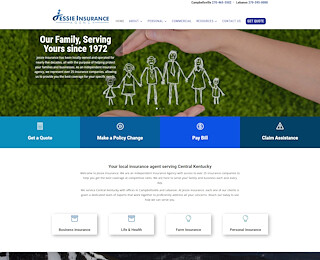 Jessie Insurance Agency is the place to go to for the best auto insurance in Kentucky. We help our clients find the right type of coverage for their automobile at affordable premium rates.
Factors that influence your auto insurance premium
Knowing the factors that can affect the amount you pay for car insurance can help you buy the right kind of policy. Here are some factors that affect the premium you pay:
Your deductibles and policy- When you compare the prices for car insurance, one of the major influencing factors is the deductible and the type of coverage you choose. Choosing a higher deductible can have you pay a smaller monthly premium, and vice versa. Also, more coverage can mean better protection but can come with a higher monthly premium.
Type of vehicle you own- The safety rating of your vehicle plays a role in the amount of money you pay as premium. Higher the rating, lower the premium, and vice versa. Vehicles that are flashy and dangerous can cost you more premium.
Distance and frequency of driving - Individuals that use their vehicle for long-distance commuting and business-related travel may have to pay a higher premium than those who rarely use their vehicle. Insurance providers use the amount of mileage you drive to determine your premium rates.
Besides, urban drivers could end up paying more as premiums than those living in the rural parts of the country. This is because incidents of theft and crashes are much less small towns. We are a reputed name for the best auto insurance in Kentucky.
Choosing the best insurance company
Choose a company with proper licenses to conduct business in your state. When you purchase your policy from a licensed company, you can seek redress from the court or from the respective regulatory authority in case the company fails to provide you with compensation. Also, when you search for a reliable auto insurance company, be sure to check if the company is offering the best value for your money. Do not fall into the false promises and sugar-coated words of the insurance agents or representatives.
Insurance companies generally offer a variety of different coverage at low prices. However, be sure to get quotations from at least three companies before you can make the final decision.
What kind of coverage do I need with auto insurance?
Before you go policy shopping and getting quotes, spend some time to decide the type of coverage you need. Each state has minimum car insurance requirement laws. Use the minimal requirements as the guideline, after which you can take higher limits to protect yourself. Also, if you choose comprehensive and collision coverage, be sure to decide on the deductible amounts.
At Jessie Insurance Agency, we offer the best auto insurance in Kentucky. We are one of the few reliable insurance providers to offer attractive deals and discounts from time to time. Call us today to buy the best coverage for your automobile or visit http://www.jessieinsurance.com/contact-us/.
best auto insurance in Kentucky
Jessie Insurance Agency
+1 270-465-5502
103 Central Shopping Ctr
Campbellsville
KY
42718
View Larger Map