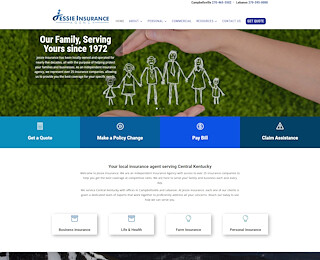 Jessie Insurance Agency is a locally owned and operated firm with over five decades of experience. We help businesses of all scales find the right type of business insurance in KY.
Insurances that are important for businesses
Businesses need extra protection from unforeseen contingencies, and financial perils as the stakes are high. Some of the important insurances for businesses include:
Worker's compensation - It helps you protect your employees if they face bodily injuries while working for you. It provides medical benefits, wage replacement, etc. to the employee in exchange for the injured employee's right to sue you or your business for the damages. 
General Liability - You should own this policy if your business involves working on a third person's property. It covers you against damages that you or your employees may cause to someone else or their property while on the job.
Commercial auto insurance - This policy protects the vehicles that you use to carry products, equipment, or employees. It offers coverage for damage caused by collisions, damage to your vehicle, products inside the vehicle, injuries to your employees or the driver in the vehicle, etc.
Some insurers offer a collective package called the business owner policy. It is a package of all of the required business-related coverages that you will ever need. We help hundreds of local entrepreneurs find the best business insurance in KY to suit the specific needs of their company.
Tips for choosing the best insurance provider for business policy
Choose a company with the most extended industry experience and a strong leadership team. Also, be sure to examine their financial strength and the products they sell. Be sure to check a company customer service, ratings, claims handling process, time taken to handle claims, etc.
It is essential to choose a company that can provide you with appropriate coverage for your personal and business needs. Also, do not blindly go for a firm that offers the lowest premiums. Be sure to get quotes from at least three different insurers and compare the coverage each of them offers and the premium rates before you choose the best insurance provider.
Types of commercial property Insurance for businesses
Commercial property insurance offers coverage for damage to your business' physical assets such as building, equipment, etc. Some of the common types of commercial property insurance include:
Commercial property policy - It covers damages to buildings you own, personal property inside the building, and other properties that your business uses. This policy allows you to ensure your property either on its actual cash value or its replacement cost.
Business income and extra expense - This policy offers coverages for the consequences of physical damage like loss of income and additional expenses.
Crime insurance - This type of policy protects your business from losses due to acts of criminals like thefts perpetrated by employees, loss or damage to money, food stamps, securities, etc.
Visit http://www.jessieinsurance.com/contact-us/ or call 270-465-5502 or 270-595-0000 to speak one of our representatives at Jessie Insurance Agency. With several decades of experience, we offer the best business insurance in KY at competitive prices.
Business Insurance Ky
Jessie Insurance Agency
+1 270-465-5502
103 Central Shopping Ctr
Campbellsville
KY
42718
View Larger Map